Sandstone Engineering is now offering our separator sizing software: 2-Phase Vertical, 3-Phase Vertical, and 3-Phase Horizontal separator design calculation sizing software.  Our proprietary separator sizing software is easy to use for proper separator design.  The separator sizing spreadsheet application will assist your engineers and designers in quickly designing and specifying production equipment.
2-Phase V-Calc  Separator Sizing Application for 2-phase vertical separators
3-Phase V-Calc  Separator Sizing Application for 3-phase vertical separators
3-Phase H-Calc  Separator Sizing Application for 3-phase horizontal separators
All 3 separator sizing software calculation tools output full separator sizing design including vessel sizing, nozzle sizing, inlet and outlet device sizing, and inlet feed flow regime.
Contact us today for a free demo download of Sandstone separator software.
The Sandstone Installation Wizard quickly installs the licensed separator software calculation tool on your computer.  Each line in the tool contains a detailed description and instructions.  Imbedded lookup and reference charts help the user quickly input process conditions.  The software provides guidance and warnings as the user navigates through the design process.  The Sandstone Engineering separator sizing calculator also allows multiple cases to run simultaneously allowing the user to compare varying process conditions.
An example screenshot image of the user instructions is shown below: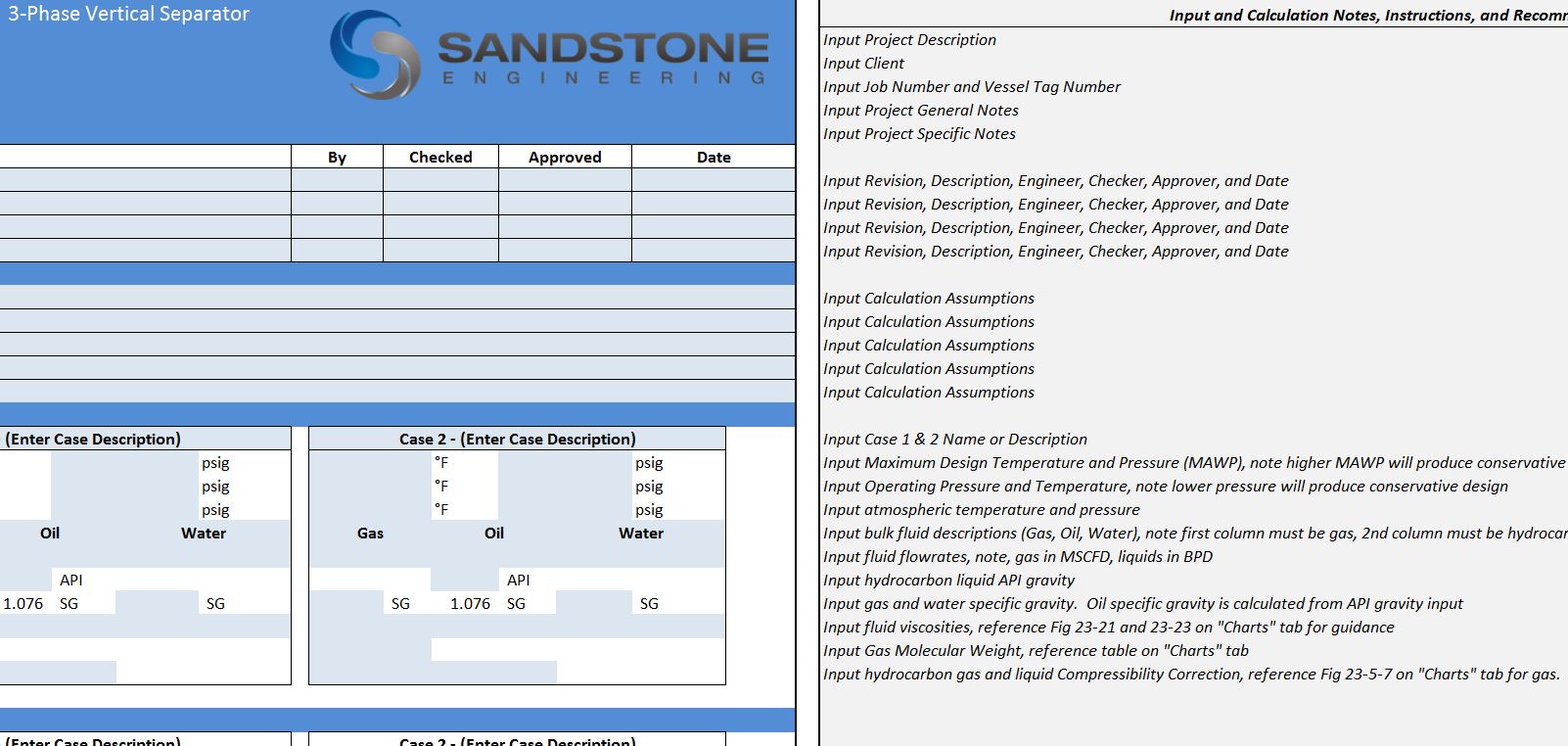 For a .pdf view of the 3-Phase Horz Tool output click this link:   3-Phase H-Calc V1.0.1 101214 – Website
Let us help you improve your efficiency and confidence performing production process calculations with our separator sizing software application.
For a free Demo Trial Version call 505-947-5714 or Email: sales@sandstone-engineering.com